E-Commerce Website Features
Sell to customers worldwide
With Loyera e-commerce websites, businesses can sell to customers anywhere, anytime. Onlines stores open up new markets for businesses, besides making selling to domestic and local markets efficient and cost-effective.
Mobile-optimized website
E-commerce websites made with Loyera are mobile-friendly. They are dynamic and responsive to the devices they are used on. This makes Loyera-powered online stores accessible to a wider audience using various kinds of devices including laptops, tablets and mobile phones.
Synchronize E-commerce with POS
Loyera e-commerce websites can be synchronized with Loyera 'point of sale' or till software. This helps streamline sales and optimize inventory. These features combined with Loyalty program makes Loyera a one-stop shop for all the sales requirements of a business.
Integrated loyalty program
Loyera loyalty program add-on can be used with Loyera-powered e-commerce websites to increase the lifetime value of each customer. Loyera Loyalty software helps reward customers on each purchase, send them offers, and analyze their preferences to be able to deliver more value.
Set up currency & country
For online stores made with Loyera, managers can set up any currency for any country, making products more accessible to a wider audience, and giving businesses access to shoppers from countries using different currencies.
Customized product filters
Every business has different kinds of products in different categories and sub-categories. With Loyera, online stores can be optimized with product-relevant categories, so that shoppers can easily filter desired products.
Create offers, coupons and promotions
Managers can create offers, coupons and promotions on Loyera-powered online stores. These promotions can be sent to loyal/registered shoppers as notifications to get more traction. This feature allows optimization of sales through seasonal and occasional promotions.
Add banners, images and videos
Banners for important campaigns and products can be highlighted on the website. Images and videos of products can be added to give relevant information to shoppers, so that they can be convinced and can make informed purchase decisions.
Manage inventory
Inventory of all products, in each category can be managed from backend. Managers can see how many pieces of a product have been ordered and how many are left in stock. Customer preferences can also be identified using purchase data, which helps optimize future inventory.
Email customers at various stages of order processing
Customers can be emailed at various stages of processing of an order—pending payment, processing, dispatched, completed, refunded, and cancelled—so that they are aware and in the loop. This helps in successful completion of more orders.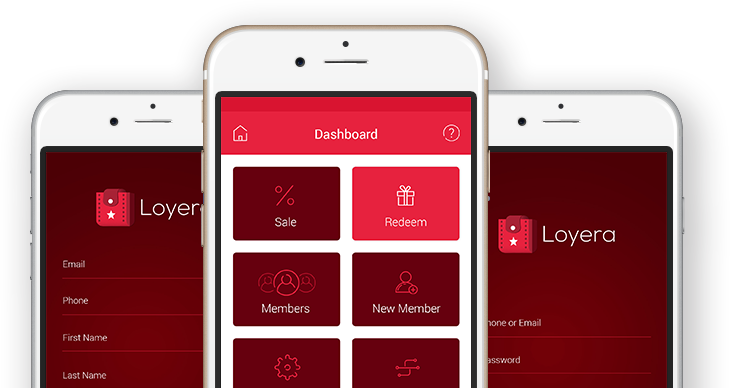 Product management
Businesses selling physical or digital products can use Loyera to create online stores to display or sell online. Various product management features of Loyera make it easy for merchandizers to optimize and manage content, prices, etc.
Unlimited Products
Unlimited products in unlimited categories can be uploaded on Loyera-powered online stores. All the SKUs of a company can be added to their personalized e-commerce store.
Unlimited variations
No matter how many variations of a product are available with a company, they all can be added to the e-commerce store made with Loyera.
Product descriptions
Product descriptions with valuable information for users and keywords can be added for each product, so that customers can make informed decisions and product pages can be optimized for search engines.
Import and export products
A .csv with names and other information of each product can be uploaded to add products in bulk. Information of products can also be exported for analysis and stock management.
Price Management
Prices of products and their variations can be added through product management features. Relevant discounts can also be added to each product.
Shipping charges and management
It gets easier to add shipment charges to each product as per their weight and size. Shipping charges can even vary as per locations of shoppers.
Stock control
The number of pieces available of each item can be added to all products, so that the orders received can be fulfilled as promised. This helps merchandizers manage their inventory, too.
Tax with geo-settings
Taxes applicable on each item can be added as per the location from where shoppers order. Geographical settings can be changed to charge taxes as per delivery locations.
Manage orders
Who has ordered what, and what is the status of delivery of each order and its payment—all this information can be gathered from the order log of Loyera E-commerce website manager.
Order ID generation
Automatic order IDs are generated on each sale made. Managers can use generated IDs to track sales and delivery of orders.
Delivery status
Delivery status of each order can be tracked to ensure that the supply chain is smooth and fast. This ensures customer satisfaction and higher retention.
Sort by order date
Orders can be sorted by date, so that they can be timely delivered, and it can be understood what sells when.
Payment amount
Amount of payment by each shopper can be tracked over time to understand their lifetime value. With Loyalty program add-on, customers can be given rewards on the amount they pay.
Payment status & log
Payment status of an order—pending, done, etc.—can be checked in the order sheet. Paid orders can be immediately processed.
Order status management
Status of orders—pending payment, processing, dispatched, completed, refunded, and cancelled—can be tracked and managed from backend.
Order history
Order history can be accessed to understand customer preferences about products, time of purchase, complementary products, and prefered offers.
Receive online payment
Online payments can be received on Loyera e-commerce stores for businesses anywhere, anytime. Shoppers can pay in any currency and can access and buy products from sellers, as per geographies set by sellers.
Add managers and staff
Managers and staff can be added to online stores made with Loyera. These staff members have their unique IDs and they can manage products, orders, and content to ensure optimal business operations.
Access shop analytics
Detailed analytics related to purchases made by shoppers from different locations and target segments, time of purchase, prefered products and variations, etc. can be accessed by managers to make optimal business decisions.
Market products to Loyera customers for free
Managers can create promotions and promote them among registered customers for free. Social sharing buttons help shoppers to share their preferences with their social circles.
Search engine optimization
Online stores created with Loyera can be optimized for search engines. There are various on-page features that allow store marketers to promote their products and website.
Meta descriptions and tags
Relevant meta descriptions and tags can be added for each product and page. This helps optimize pages to be more searchable online.
Receive reviews and feedback
Reviews and feedback can be received on products from shoppers. This helps improve the value of information on a page, and hence makes product pages rank better in online searches.
On-page blogging
Blogs can be written about products and categories to promote certain pages and engage customers. Blogs are a great way to deliver information that customers value and they can be used to make customers interested in purchasing products offered.
Highlight related products
On each product page, related products can be highlighted to reduce bounce rate and increase conversion rate for selling larger product baskets.
Promote specific or bestselling products
Important products and deals can be highlighted on the home page and elsewhere on the web store to get higher conversion rates of desired goals.