Loyera E-commerce platform can be used to launch customized and mobile-friendly online businesses. Various attributes related to products, stock and logistics can be set to sell any physical or digital product through Loyera.
Free
Loyera is free to use, hence a business can be brought online with an e-commerce website, without incurring any cost. Unlimited products can be uploaded and digital marketing can be done without any programming overheads.
Personalized design
Brands to businesses are like names to people. Therefore, Loyera allows businesses to cutomize the design of the website in alignment with their brand, with customized colours, text, images, products, etc.
Instant Setup
An online store can be set up within minutes. After registration and customization of the website's design elements, a store an can upload information, images, prices, etc. of products and start selling immediately.
Customized product categories
Product categories and filters can be customized as per the offerings of each business and store. Different businesses have different requirements and product ranges, and hence it is essential to set categories that are apt for individual businesses. With Loyera, it is easy to add, edit, and remove categories, as per the requirement of shoppers and sellers.
Cloud-based
Online stores made with Loyera are cloud-based, and hence all data can be accessed from anywhere in the world at a good speed and with security. The pages load fast no matter where shoppers try to purchase from. No server maintenance or data back-ups are required, as cloud-based data is protected with various layers of security.
Unlimited physical and digital products
Businesses can sell any physical and digital product with Loyera. It is easy to set up unlimited number of products with images, descriptions, prices, shipping charges, and other details. One can even optimize product pages for search engines.
Content management system
Banners for announcement of discounts, sales and occasional offerings can be uploaded, and images and videos of products can be added for personalization and optimization of the online store. Text for About Us, Contact Us and other pages can be added to suit individual businesses.
Loyera e-commerce websites for businesses come with Loyera POS software add-on, so that inventory, prices and products for both online and offline stores can be managed at one place. This feature makes merchandizing easy for retailers.
Free loyalty software add-on
Loyera-enabled e-commerce websites can also be integrated with loyalty software. Businesses can retain customers, increase basket size and attract new and referral customers by setting up Loyera Loyalty program with Loyera-powered online store.
Blogging
Good content is a great way to keep shoppers engaged. Businesses can blog using Loyera's blogging feature on their e-commerce platform. This can be used to deliver valuable information to attract and engage customers and optimize the online store to rank high on search engines.
Product reviews
Product reviews from shoppers can be received on products. This helps both shoppers and businesses. New shoppers can read about the experiences of other shoppers, and businesses can optimize their product pages with good reviews and build their online reputation.
Payment gateway
The integrated payment gateway on the platform allows businesses to receive payment from customers from anywhere, anytime. Customers can use various online payment options including Net banking, credit cards and debit cards to purchase products from the convenience of their homes or elsewhere.
Launch mobile-friendly and personalized e-commerce store
With Loyera E-commerce websites, businesses can create an online presence without engaging any programmers. These websites can be personalized to optimize sales and reach the desired business goals. Online stores created with Loyera are mobile-friendly and hence are accessible to shoppers using all kinds of devices.
Manage Loyalty and sales
WIth Loyera Loyalty add-on for Loyera E-commerce websites, businesses can retain customers, increase their basket size and lifetime value, and attract referrals and new customers. This helps boost sales in the long run. Sales can be managed and analyzed using Loyera Analytics.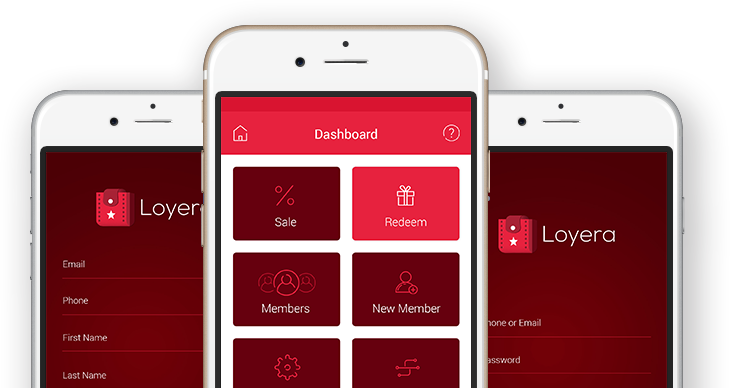 Manage inventory and orders efficiently
With Loyera E-commerce, it is easy to manage stock available for both online and offline stores, as Loyera POS add-on with E-commerce helps centralize inventory management. Managers and staff can also track the status of each order and get an overall summary of sales.
Use Analytics
Businesses can access data about purchases made by shoppers, and hence can analyze what customers prefer to buy, what products are purchased together, what are their target market attributes, etc. This information helps businesses optimize their offering and e-commerce websites.