The World's First FREE Loyalty Program
Loyera's loyalty software solution is an intuitive programme that enables business to reward their customers, retain and engage them, track their purchases and manage their loyalty towards the business.
Free
Loyera's loyalty software is free to set up and use for businesses. This is in line with Loyera's mission to support and empower businesses and help them reach their potential. The features, functionalities, and tools of this loyalty solution deliver value to businesses.
Instant Setup
The registration process is simple and there is no lag between setting up and activating the system. You can add customers to your loyalty network and begin rewarding them immediately after installing Loyera.
Hardware-independent
Loyera is the world's first hardware-independent loyalty solution for businesses of all kinds and sizes. Businesses will not have to purchase and install additional devices, as Loyera can seamlessly run on any device, including a mobile phone.
Suitable for All Businesses
Irrespective of the industry a business operates in or the scale of the business, Loyera has a loyalty solution that is in sync with all kinds of business needs. Retain customers and engage with them more effectively with Loyera, and base a business' decisions on analytical insights.
Manage Loyalty
Loyera simplifies loyalty management by eliminating dependency on multiple hardware devices and allowing the entire system to be controlled remotely. Manage the entire program on a single or multiple devices, including on a mobile phone, even when you are offline. Access better control, enhanced security, and simple cloud-based loyalty management—everything is simpler with Loyera.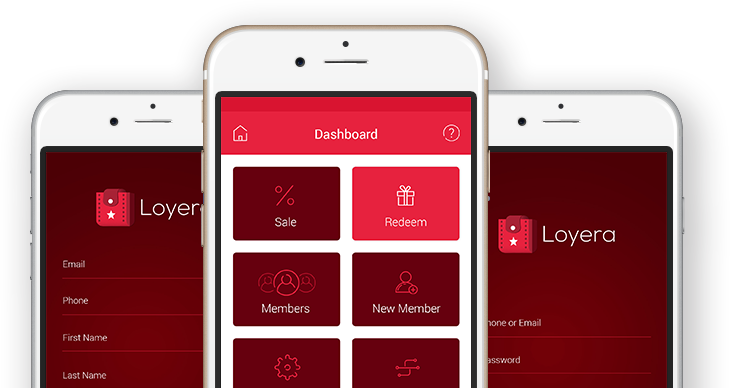 Increase Customer Base and Retention
A Business can build a strong and loyal customer relationship with its customers and engage them effectively. With Loyera, one remains directly connected to their customers and can offer rewards to them instantly. It has features and functions that are suitable for businesses of different sizes and from different industries.
Single Device Management
Loyera eliminates the need for separate devices to manage POS receipts, customer loyalty program, and employee rosters. Loyera is the one-stop solution for all the sales and loyalty-related requirements of a business. Add new members, give reward points, redeem rewards, view customer activity reports, etc. from a single app on any device.
Cloud-based
Loyera is completely based on the cloud, which means a business can manage their entire loyalty reward program remotely and access the same data on all devices synced with the cloud. Change loyalty settings, keep a track of new sign-ups, and analyse customer activity from anywhere.
Enhanced Security
With advanced features like employee record keeping, multi-tier control and access, employee authentication for awarding and redeeming rewards, and robust data protection mechanisms, businesses can be assured of a safe, automated, and fool-proof loyalty system with minimal scope for leakages.
Internet-independent
With Loyera, a patchy internet connection doesn't impede business performance. Loyera allows businesses to process transactions, give reward points, and add new members to the loyalty program in an 'offline' mode, as well. The data generated is updated to the cloud when the connection is re-established.
Use Analytics
Put that data to good use and optimize a business' customer loyalty program using insights from customer activity. Loyera provides businesses with real-time analytical support and reporting so that they can take the most effective business decisions. Use data to understand what a business' customers want and how they can be best engaged.
Create Offers to Attract Customers
Run hyper-local offers and discounts to attract customers to a store. Happy customers lead to returning customers, which translates into swift business growth. The customers on a business' loyalty network will get instant offer notifications on their shopper app, and hence a business can manage discounts and promotions in real time.
Loose Change Adding Feature for Users
No more stashing up loose change to return to customers. With Loyera, customers can accumulate small amounts of leftover change and get them deducted from their bill when it reaches a considerable amount.
Local Brand Building Platform
Loyera helps businesses get highlighted on the local business map. It enables businesses to reach Loyera shoppers without cumbersome marketing activities. Stores can offer discounts and promotions to attract local customers.
No matter if you are the owner of a quaint cafe around the corner, or if you run a small chain of salons, or if you happen to be a businessman with multiple retail outlets: we have got your back. Regardless of the industry you operate in, or the scale of your business, Loyera has something for you.