Built for Mobile Devices
Loyera POS software is available for all smart mobile devices, besides being available for computers. This makes it an affordable POS solution for small businesses, as it cuts down the cost of installing dedicated hardware for point of sale management. It also enables merchants to access sales data remotely. Loyera Point of Sale system free download is available for computers and mobile devices.
Synchronize POS with E-commerce
Loyera Point of sale system can be synchronized with Loyera e-commerce to sell physical and digital products online. This enables merchandisers to manage products and stocks for both offline and online stores at one place. With Loyera, selling becomes streamlined and efficient.
Businesses can subscribe to Loyera Loyalty add-on to reward their customers on every purchase they make. Besides other loyalty management activities, Loyera allows customers to add their loose change in their loyalty account to be used when making purchases in future.
Create offers, coupons and promotions
Businesses can create offers, discount coupons and other promotions for their clients. This feature enables managers to optimally utilize their database for marketing purposes.
Open & Close Register
POS staff has to open the register to be able to sell. They can see the opening cash balance in the register and process sales the entire day using various payment modes. At the end of the day, closing cash amount is added by the POS staff while closing the register, which is automatically tallied with the cash balance that should be in the till, as per the software. Log of register opening and closing is also available as per dates.
Add managers and staff
Businesses can add various staff and manager IDs to the system, so that they can login before processing sales or entering data. This helps assess the tasks performed by each employee and make required appraisals and changes wherever required.
Access shop analytics
Shop analytics can easily be accessed to understand which products or services are preferred by customers. One can assess various operational attributes like opening & closing times of registers, what sells more at what time, and which staff member or team performs better than the rest.
Track shopper activity
Each customer or shopper's activity in terms of purchases can be assessed separately to understand target customer's behaviour and preferences. One can also use the activity log to create customized offers for clients registered in Loyera Point Of Sale System for small and large businesses.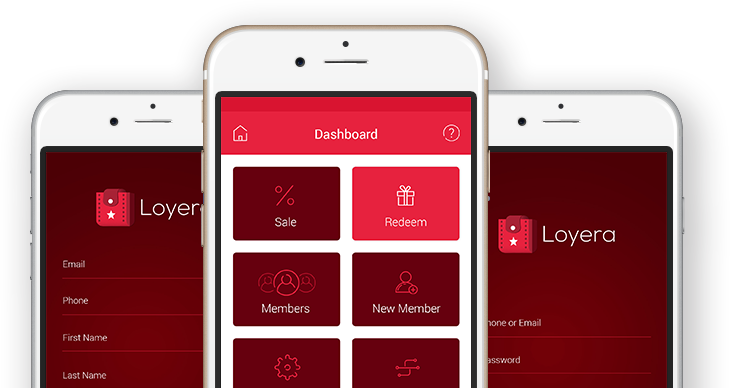 Set Up
Various attributes of Loyera POS system for retail businesses are customizable to make the point of sale system fit to be used for businesses with different kinds of requirements. One can immediately start selling after setting up one outlet and product.
Store Outlets
Various store outlets of a store can be added to a business account. Loyera crm software allows owners, investors and managers to manage and track sales made in each store.
POS Devices
Various computer and mobile devices can be added to an account with Loyera POS system for retail businesses. Multi-device access to Loyera bill maker software enables sales to be processed through various counters and mobile points of sale.
Receipt template
Businesses can create a custom receipt template by selecting all the information they want to display on the print and email-receipts, empowering businesses to extend their brand names on Loyera software's output.
Store credit
It allows businesses to give products on credit to customers by adding their pending payment to their respective accounts. This feature makes Loyera a perfect POS system for small and mid-sized retail businesses, who often sell on credit.
Manage Products
With Loyera POS, products and inventory can be managed efficiently to ensure that the store has optimal products in stock and that businesses can record every item sold.
Unlimited Products
Unlimited products can be added to Loyera POS system for small and large businesses. Products offered by a business may vary from one season to another, and businesses of different nature have different numbers of products in stock, all of which can be recorded in Loyera using Manage Products section or at point of sale. This feature makes Loyera a scalable POS system for retail businesses.
Unlimited Product Variations
Many businesses sell various variations of a product. Unlimited variations of a product can be added to Loyera POS. This feature gives a lot of flexibility to merchandisers while managing products and it even makes sales processing easy.
Product detail page
Product description, images, videos, sizes, prices, tax applicable, supplier, stock, etc. can be added for each product uploaded. This page summarizes everything there is to know about a product offered by a business.
Add categories, tags and other attributes
Categories, sub-categories, brands, tags and other attributes of the products available with a business can be created. This helps businesses to customize point of sale software interface to match the categories of products offered by them.
Pin favourite products
Products can be pinned as favourites to have quick access to them at points of sale. This allows sales staff to quickly process sales comprising of bestselling products.
Import and Export Products
A number of products can be imported together into a Loyera POS account using a .csv. Even the list of products in the system can be exported for analysis and other purposes. This efficient feature saves a lot of time while adding products to the software.
Stock control
Stock available for each product and its variations can be added on product pages. Businesses can even define if they want to make a product available offline, online or both.
Quickly add missing products
If at point of sale, a product is not showing in the system, then the sales staff can quickly and easily add the product in the system in just a few clicks to ensure that every sale made is recorded properly.
Pricing, markups and discounts
Supplier prices, markups and discount allowed for each product can be added on their product pages. Discounts can even be given at the point of sale.
Suppliers
Businesses can add all the suppliers from whom they get their products. Suppliers can be assigned to each product, so that one can easily track the source of a product for reorders or replacements.
Tax Management
Business can add the taxes applicable on each product, as per their government guidelines and company policy.
Manage Orders
Orders can be taken on the counter, at the tables or remotely, using Loyera POS apps for desktops and mobile devices. Loyera billing software free download is available for various computer and mobile devices. There are many convenient order features which make point of sale processing with Loyera easy.
Map orders to customers
Orders are mapped to individual customers. POS staff can add the mobile number of any customer to select their relevant customer profile from the list. If a customer is not in their brand list, they can add him/her from Loyera's customer list or can send that customer an invite to join the database.
Park & Retrieve orders
Salespersons at POS can park and retrieve orders if some customers need time and want to return later to complete their orders. This helps salespeople save time in creating new orders for those customers from the beginning. A parked order can be discarded if a customer does not return to complete the order or wants to cancel the order.
Discount Management
Discounts can be given to customers on each product they purchase or on the total amount. This can be done while processing orders at point of sale through this customer relationship management software.
Payment mode management
Customers can pay their bill through cash, credit/debit card or paypal. They can also be allowed to purchase products on credit upon recording the due bill amount in their account. Customers can redeem their loyalty points against any purchase made.
Payment status & log
Sales staff, managers and owners can access payment status and log to ensure that all the orders are complete. Customers can be contacted to follow up regarding pending payments. Auditors can use the software to easily map the sales made with the payments received.
Receipt management
Print or email receipts can be issued to customers through Loyera's cheap point of sale system, as per customers' preferences. Businesses can select which mode of receipts they want to activate for their businesses, depending upon their and their customers' requirements and preferences.
E-receipts
Many customers prefer eco-friendly options and like to receive their receipts through emails or SMSs. Use Loyera's bill maker software to issue e-receipts through emails or SMSs. This option for customer is a small yet a nice way to cut on your business' carbon footprint and connect with aware customers.
Product return management
Products returned by customers can easily be recorded by retrieving and editing the orders made by those customers from Order History section of the POS system. Any ordered product can be returned and its money can be refunded or added to customer's account to be used later for purchases.
Allow customers to carry forward loose change
Customers can be allowed to carry forward the amount of change that is due to them. This change balance is added to their loyalty accounts as points, so that they can use those points later to make purchases.
Order history
Sales history can be accessed to check the status of an order, to issue receipts, or to retrieve a parked order for completion or cancellation.