Loyera Point of Sale software is a comprehensive sales solution for small and large businesses. It enables businesses to streamlines sales, inventory & supplier management, and product management.
With Loyera Loyalty and E-commerce add-ons, this Free POS software for retail businesses becomes a complete retail solution.
Loyera POS software for small and big businesses is free to install and use. It is easy to use and has an intuitive design. Therefore, it requires minimal effort and spending on training staff members for instant implementation in sales, for any business.
Unlimited physical and digital products
Businesses can add unlimited products to Loyera POS and e-commerce. This enables merchandizers to add products to stock with their details, and track stock, products and sales data from one access point, using their mobile devices or computers.
Instant Setup
With its intuitive features, Loyera POS software for businesses can be easily set up. Businesses can add various branches and unlimited products to the system to sell seamlessly to customers who purchase using different payment options.
Customized product categories
Every business has their own set categories. Businesses can use Loyera POS to create customized categories, sub-categories, brands, tags and other attributes of products to make sale and product management easy.
Cloud-based
Businesses can add unlimited data on products, inventory, sales, customers and company to Loyera POS. All the data is stored on Cloud in real time, enabling managers, owners and other permitted stakeholders to access the data for monitoring results or planning businesses activities.
Hardware-independent
Loyera POS is hardware-independent. It can be installed on computers or mobile devices. This reduces the cost of expensive hardware required to set up a POS system for a business, making Loyera a cheap point of sale software solution. Loyera billing software for mobile devices empowers small and big businesses to realize their sales potential by optimizing processes.
E-commerce software add-on
Loyera E-commerce add-on allows businesses to go online using the same Loyera account. This enables centralized management of products, sales and inventory. With E-commerce and Loyalty add-ons, Loyera becomes a 360-degree retail solution.
Promotions
One can promote products, discounts and services to registered customers by sending them notifications through Loyera app. This helps attract customers back to offline and online stores of businesses and keep them engaged.
Loyera Loyalty add-on can be used with Loyera POS to enable businesses to add customers to their loyalty network at the point of sale. Loyera's invoicing software can be used to reward loyalty points on each purchase made by customers and to allow them to add their loose change left on a purchase to their loyalty account, so that they can use it during future purchases.
Payment gateway
Loyera invoice billing software has an integrated payment gateway, which allows Loyera merchants to receive payment in cash at the register or through debit or credit cards. One can also integrate PayPal option to the system or allow customers to buy products on credit from the store. Printed or e-receipts can be issued to customers through the software.
Order management made easy
Orders made by customers can be seamlessly processed by point of sales staff, as Loyera billing software's design intuitively guides them from one step to another, from selection of products and customers to receiving payment and completing orders.
Manage inventory across stores
Inventory can be centrally managed through Loyera POS. All permitted merchandisers can access product and stock sections on Loyera, using their mobile devices, to manage stock of products in various online and offline stores.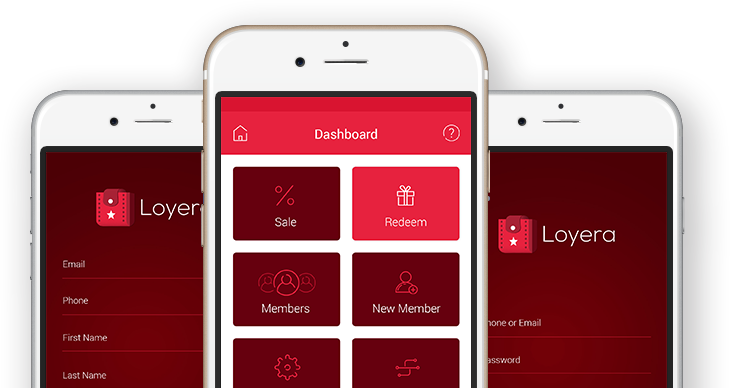 Manage loyalty and online sales
Loyera Loyalty and e-commerce add-ons allow businesses to reward customers on their online and offline purchases. Loyera also puts businesses on an online local map, so that they become easily discoverable by customers. E-commerce features enable businesses to sell online.
Use analytics to optimize business offerings
Loyera Point of Sale software for small and large retail and other businesses collects customer, sales, supplier, and inventory data. This data can be used to analyze the performance of various products, business outlets, and staff members. Data can also be used to assess customer preference and buying behaviour.